Outline
It is the country of everlasting summer, Philippine, with the beautiful national land and spiritually rich citizens. Citizens are full of hospitality and have talent for music and the land is flourishing with greens. Philippine and Japan were closely related since the vermilion-seal certificate trade known with anecdote of Luzon vase distributed around the 16th century and also by having the trade of Manila hemp before the war.
Moreover, it is the English speaking country, opened for the huge business chance. Philippine chamber of commerce and industry in Japan is established as a bridge to develop alignment through business of Philippine and Japan.
Established dates Mar 31 1976 / as chamber of commerce and industry of foreign countries supervised by ministry of Economy.
members of Japanese companies trading with Philippine are about 30.(year 2016)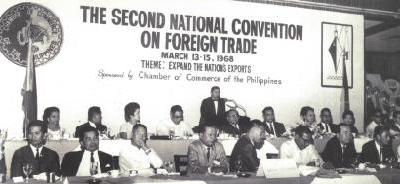 PCCIJ 2019 Board Members
| Name | Company |
| --- | --- |
| Prestigious Head:His Excellency Mr.  Jose Castillo LAUREL V | Ambassador Extraordinary and Plenipotentiary of the Republic of the Philippines |
| Prestigious Adviser: | Commercial Attache/ Embassy of the Republic of the Philippines |
| Chairman:Reyes, Allan | Individual Member |
| Vice Chairman:Enriquez, Roderick T. | Philippine National Bank |
| Vice Chairman:Nagao, Tomoyuki | Philippine Airline |
| Accountant: Nakata, Hiroaki | LVS Inc. |
| Board:Kakihara, Kazuo | ATTIC Tours Co., Ltd. |
| Board:Takahashi, Tsukasa | Transtech Co., Ltd. |
| Board:Iwahashi, Hirokazu | Rockbridge Holdings Co., Ltd. |
| Board:Nishizaki, Shuji | LIFESUPPORT Co., Ltd. |
| Board:Nihei, Mari Mayang | Individual Member |
| Board : Liggayu, Miko Yonasu | Individual Member |
| Auditor:Jason, Jose R. Jiao | Individual Member |
| | |
Address
c/o Philippine National Bank Tokyo Branch
Mita 43 MT Building 1F, 3-13-16 Mita, Minato-ku,
Tokyo 108-0073