Outline
It is the country of everlasting summer, the Philippines, with its beautiful islands and warm and welcoming citizens. The Philippines are full of hospitality and have talent for music and the land is flourishing with greens landscape. Philippine and Japan are closely related since the vermilion-seal certificate trade known with anecdote of Luzon vase distributed around the 16th century and also by having the trade of Manila hemp before the war.
Moreover, it is an English-speaking country, open for huge business opportunities. The Philippine Chamber of Commerce and Industry in Japan (PCCIJ) is established as a bridge to develop these opportunities between Philippines and Japan.
The PCCIJ was established in March 31, 1976 as chamber of commerce and industry of foreign countries supervised by ministry of Economy.
The Japanese member companies trading with Philippines are about 50 as of 2023.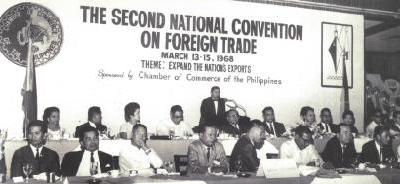 PCCIJ 2023 Board Members
| | |
| --- | --- |
| NAME | COMPANY |
| Honorary Head:Her Excellency Ms. Mylene J. Garcia-Albano | Ambassador Extraordinary and Plenipotentiary of the Republic of the Philippines |
| Chairman: Allan Reyes | Individual Member |
| Vice Chairman: Tomoyuki Nagao | Philippine Airline |
| Vice Chairman: Roderick Enriquez | Philippine National Bank |
| Director: Kazuo Kakihara | ATTIC Tours Co., Ltd. |
| Director: Tsukasa Takahashi | Transtech Co., Ltd. |
| Director: Hirokazu Iwahashi | Rockbridge Holdings Co., Ltd. |
| Director: Takaaki Nakata | LVC Inc. |
| Director: Mario Fujimoto | PLDT Global Corporation (PGC) |
| Director: Kento Machida | Life Shift LLC |
| Director: Shuji Nishizaki | Individual Member |
| Director:Mari Mayang Nihei | Individual Member |
| Director: Miko Yonasu Liggayu | Individual Member |
| Director: Makoto Ide | Individual Member |
| Auditor: Jason Jose R. Jiao | OH-EBASHI LPC & PARTNERS |
| Secretariat: Chikako Kajitani | Philippine National Bank |
Address
c/o Philippine National Bank Tokyo Branch
Mita Kawasaki Building 2F,
2-11-15 Mita, Minato-ku,Tokyo 108-0073